Hey everybody, my name is Chase McFly, and I'd love it if you joined my wiki, Chase McFly's Elite ANT Force Fanfiction Wiki.
The wiki is a fanfiction mash-up of 10 Disney Shows: Lab Rats: Elite Force, ANT Farm, Girl Meets World, Best Friends Whenever, BUNK'D, Good Luck Charlie, Kickin' It, Liv and Maddie, Wizards of Waverly Place, and Suite Life on Deck. They come together gradually throughout the series as an epic sci-fi action-adventure dramedy, with several episodes. The episodes are written via roleplaying.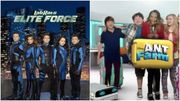 I made this wiki to share my fascination with multiple Disney characters played by the same actor existing in the same universe, to share with tons of other fans of all my favorite shows. People who miss the canceled shows and want to RP new awesome episodes will surely join this community. It is also a marvelous encyclopedia for a mere fanfic.
 We have roleplayed into the 5th spin-off, and have character pages, pairing pages, year pages, object pages, ability pages, and lots of fun plot twists. I want others to continue the wiki's legacy in the future when I leave and I also would love to make the RP show in it a reality one day. I want to keep making new episodes as long as I can. Others can comment on our near 900 articles, join the roleplays, make blogs about episode ideas, message our admins with season changes and plot twists, come to chat parties, and enjoy making new pages.