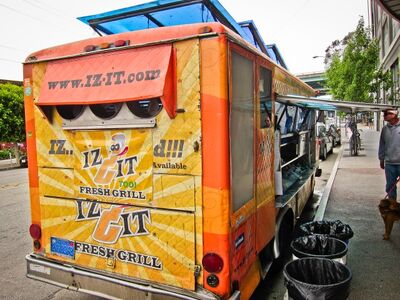 As an avid Wikian, you probably spend a lot of time in front of a computer. But we're sure that you spend a lot of time outside your house, too. The great thing about Wikia is that you can transfer your behavior offline to your behavior online. Enjoy taking pictures? Upload them to a wiki. Watch a lot of movies with friends? Edit articles about your favorite characters.
One of our newest wikis is all about being outside and exploring the latest trend in food. Have you been noticing more and more food trucks popping up in your city? From San Francisco (where we're based) to Ohio, New York, and Europe, street food is a growing movement that's getting even bigger. So, it makes sense that there's a killer Food Truck Wiki to compliment the trend.
The Food Truck Wiki does a great job of showing how user-uploaded reviews can really make a wiki shine — truck owners have been updating info about their business, and street food lovers are visiting the wiki to leave reviews and add trucks they know and love.
In just over a month, the wiki has added 134 trucks and received more than 20 new editors, 149 pages, and 262 photos. The wiki has also already been mentioned by the well-known food site Foodista. Pretty good for a newbie wiki.
We're excited about the community's accomplishments because the Food Truck Wiki is truly becoming a collaborative project. As with all wikis, more users means higher quality content — so don't be afraid to dive right in! If there are food trucks in your city or country, add them to the wiki. Do you watch "The Great Food Truck Race"? The community would love if you entertainment-savvy Wikians would add info about that show to the wiki, too.
If food trucks aren't you're thing, you can check out other trending food wikis about bacon, donuts, desserts, and even beer (if you're of age!). As always, if you have any suggestions that could help the Food Truck Wiki grow, post your comments here.
Want to stay up to date on the latest feature releases and news from FANDOM?
Click here to follow this blog.
Interested in learning more about community management on FANDOM?
Click here to view our community management blog.