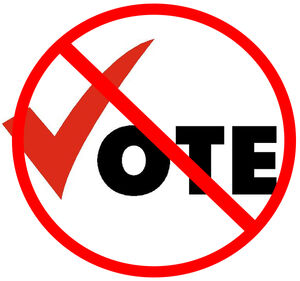 If a community does not allow any votes to remove bureaucrats (like here on Community Central) and one of them is abusing power, there are many different ways to deal with bad bureaucrats. There's possible good reasons a community has restrictions on voting out bureaucrats such as to prevent hostile removals if things are enforced. it may also be set to protect their privileges from being removed in-case a vandal or someone else deliberately tries to get an admin demoted for a reason whereas having the vote thread canceled and/or completely deleted. When powers get abused, there are different ways to deal with it.
Notify another active bureaucrat for help and have it notify Wikia about the issue if there's one or more available or an admin if there's only one active bureaucrat damaging the wikia. If they have confirmed that another one is abusive, have an admin or bureaucrat vote the abusive bureaucrat out. The policy against voting can only be bypassed if there are no active admins around over a year or so.
If the damage is severe enough and/or a policy to disallow it was set by an abusive admin, contact staff about it.