Hello Wikians! Since we announced our Wikia Stars program earlier this year, we've been hard at work, connecting with our Stars, learning from them and getting them involved in the work we do at Wikia.
We're excited to share a few snippets of what they've been up to. Here's a short video with Kitsufox and BachLynn23, two Stars who recently visited the Wikia office in San Francisco, sharing a little bit about how they use Wikia.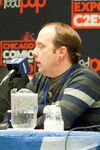 Peterparker and Jamie joined us at C2E2 in Chicago last month. Peterparker participated in our live Expert Showcase panel on The Walking Dead and the live-action version of our Qwizards quiz show, and both Peterpark and Jamie were judges for our Cosplay contest.

You'll begin to see more of the Wikia Stars over the coming months as they guest-blog post on Community Central, offering specific tips and tricks on how to get more out of Wikia. In the near future, we will also host live chats and discussions with our Stars on a broad range of topics, including anything from "how to start on Wikia" to "why choose Wikia".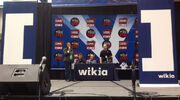 If there are any topics, you'd like covered, please let us know in the comments section below. While we're slowly growing the Wikia Stars program, we're always looking for more Stars. If you or someone you know is a Star, please tell us here.
Want to stay up to date on the latest feature releases and news from FANDOM?
Click here to follow this blog.
Interested in learning more about community management on FANDOM?
Click here to view our community management blog.