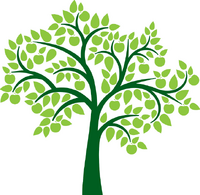 Categories are more than simple tags placed at the bottom of an article; they organize a wiki's content and offer vast navigational potential between related articles. Ideally categories connect together like branches of a tree to form a solid foundation for a wiki to thrive. Wikis that misuse or neglect their categories miss out on the benefits a category tree provides for both readers and editors alike.
The modernization of article headers may result in increased importance directed to categories and user practices regarding their creation and formatting.
What is a category tree?
A category tree is a hierarchy of categories, or even more straightforward, a flow chart. It's a road map to the wiki's content. The tree has one base that branches out into primary branches, secondary branches, and twigs before eventually ending with just the leaves, which are the articles.
What does a category tree accomplish?
A strong category tree offers assistance to all users: readers and editors. Perhaps a user doesn't know the name of the article they mean to find or they want to see what articles of a specific type exits. A tree directs a user through the wiki's content without even needing to navigate article pages themselves. Strong categories also increase editing efficiency by allowing editors to go through every related article to make changes without omission as well as extending the usefulness of programs like AutoWikiBrowser (AWB).
How can I create one for a wiki?
The following steps will get you started no matter the state of a wiki's categories:
Category trees on other wikis
Know of any additional well-build category trees and practices on other wikis? Share them below! I would love to hear of any other ways wikis showcase their categories.