I know I likely lost a number of people starting from the title, but I'm hoping this blog will expand upon the understanding of this large, independent property. Munkapedia is, you guessed it, the all-inclusive wiki about the Alvin and the Chipmunks franchise, a franchise that unfortunately is the common target of ill-willed comments.
The Franchise
Alvin and the Chipmunks, a group of anthropomorphic singing chipmunks, was created by a man who gambled 95% of his savings with a desire to create a better life for himself. From the beginning, more than 58 years ago, the venture was one involving family and is still one of the few successful franchises that exists independent of today's mass media companies.
A few quick facts:
Over the group's early years they were awarded six Grammys, three of which were for the Billboard Hot 100 #1 Christmas classic "The Chipmunk Song (Christmas Don't Be Late)".
For approximately every two songs they have covered, an original song has been created.
The Chipmunks have three television series, totaling more than 300 aired episodes, eight movies, 50+ albums, and dozens of books, comics, VHSs, and DVDs, not counting other merchandise (believe it or not, an Alvin and the Chipmunks ceiling fan was released in the past).
Though their character design has changed many times since their creation, four generations dominate.
To achieve the characters' voices, the voice actors (who vary dependent on the generation) must talk or sing slower than normal, while retaining emotion and personality within the voice, before the voice recording is sped up. As a result, there typically is a notable difference between voice actors.
The franchise is still pumping out new content with the new ALVINNN!!! and The Chipmunks series.
The Wiki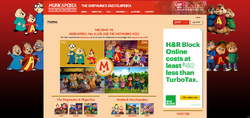 Munkapedia celebrates its ninth anniversary in about a week; on December 24th, 2007, the wiki was created under the name The Alvin Wiki. Since that date, the wiki has grow considerably in content (I recall a Staff comment a couple years ago, surprised in regards to the size of a wiki dedicated to the singing chipmunks), yet is mostly stagnant in regards to an active community. Despite my best efforts, including the creation of a wiki Twitter a couple years ago (which generally has more involvement than the wiki), I can't maintain a large and consistent fan-base on the wiki itself.
I've considered creating a blog here on multiple occasions and I honestly don't know if it will be a benefit. The wiki is highly organized and is still primed for further growth through our multiple community projects that knowledgeable editors are encouraged to add to. Munkapedia has an established Forum on a number of topics and is part of the Chipmunks Discord. Friendly editors and curious readers are more than welcome to stop by to help meet the editorial goals, speak with current active fans, and even to add suggestions on how to improve the wiki.