I got this recipe from this website (the link is below), but I adapted it a little bit.
https://www.topsecretrecipes.com/Hostess-Twinkie-Recipe.html
When i made them, I was able to make about 12 cakes. There are also some photos from when I was making the twinkies somewhere else on this post...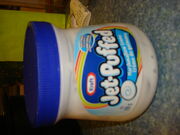 Ingredients:
Cake: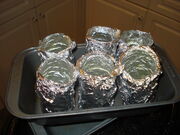 Nonstick spray
Tinfoil
4 egg whites
468g Golden cake mix
2/3 cup water
Filling:
2 teaspoons hot water
1/4 teaspoon salt
2 cups marshmellow creme or 1 198g jar
1/2 cup shortening
1/3 cup icing sugar
1/2 teaspoon vanilla
Baking Instructionns:
1. Preheat oven to 325* F
2.Fold a piece of tinfoil in half and put a spice jar in the center. Fold up two sides so it looks a bit like an envelope. Wrap sides tightly around the spice jar leaving the top uncovered and the bottom flat. These will be your molds. Spray the insides with nonstick spray and place them upright, inside a bread pan.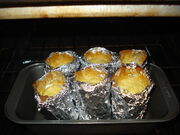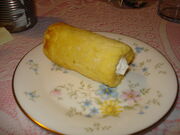 3. DO NOT follow the directions on the side on the cake mix box. Beat the egg whites until they're stiff. In a different bowl mix the cake mix and water until smooth. Fold in the egg whites carefully so the mixture is still fluffy.
4. Pour the batter into your molds, filling each one about 3-5 cm; they rise a lot. Bake in the oven for about 1/2 an hour or until the tops are goldy-brown.
5. While the cakes are baking, mix the salt and water in a cup until the salt is disolved. Let it cool at room temperature.
6. Mix together marshmellow creme, shortening, icing sugar and vanilla in a medium-large bowl until fluffy.
7. Add in the salt mixture and mix again.
8. After the cakes are cooked and cooled, scoop out a small amout of cake in the middle to make space for the filling.
9. Use a pastry bag to put the filling into the cakes.