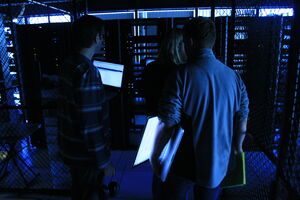 Recently the Engineering Ops team has been doing some critical work in our San Jose data center to improve site speed and stability. Here's a little background into what they're doing and why.
What we are working on
Last year, we completed the set-up of our Iowa data center as a backup facility, to ensure minimal disruption if the San Jose data center has an issue. While the machines in Iowa are brand new, it's clear the hardware in San Jose is beginning to age. So now we're installing brand new and top-of-the-line data servers in San Jose. To make sure there is minimal disruption to the site, some of our engineers from Poland are working with the team from San Francisco to install and configure these servers.
Upcoming downtimes and improvements
Some key servers will need moving and that may mean a few read only times as we reset machines. We always try to time these periods with the lowest traffic times of the day to avoid interrupting editing. We will announce read-only periods via talk page messages, Facebook and Twitter so you can stay informed. We may also have a few times when site load or logging in may be slower than usual. This will be mainly due to increased loads on the machines being kept online while others are taken offline during moves and swaps. Initial testing with the new web servers shows a decrease in overall page load times. Just as important, the addition of several lightning-fast database servers means our wikis are being stored and retrieved more efficiently.
If you have any questions, feel free to leave a comment. We'll make sure your thoughts are passed along to the very tired Ops team.
Want to stay up to date on the latest feature releases and news from FANDOM?
Click here to follow this blog.
Interested in learning more about community management on FANDOM?
Click here to view our community management blog.