Here are the latest technical updates at Wikia. Keep in mind that our system updates happen every Wednesday, so we're posting this on a Tuesday to give you advance notice. Also note that we change hundreds of tiny details every week, so these are just the highlights. This update has been postponed until January 31st, 2013.
New Features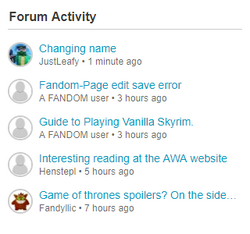 On wikis with the Forum feature enabled, the Forum Activity module can be added to any page using the <wikiaforum /> tag.
The new page Special:UnusedVideos is added to all wikis.
Major Bugs Fixed
Leaving an edit page without publishing, when the only changes were within the Category module, was not showing the "Are you sure you want to leave?" confirmation.
Trying to protect a recreated recently deleted page was throwing a PHP error.
Wikia.com's promote feature was listing bots and blocked users as top contributors.
Other Notable Changes
Select Known Issues
The visual editor is currently stripping articles of empty <div> tags.
Clicking the "Add photo" button on an image placeholder does not open the upload window in Google Chrome.
Some founder emails are being sent together (when they are meant to be sent days apart).
Questions? Comments? Feel free to leave them below. And if you have additional bugs to report, please send them to us via Special:Contact.
Want to be notified about technical updates when they are posted? Then click here to follow this blog.