Distrito Mutante
Termo usado para descrever um universo fictício criado pelo Autor Djalma de Paiva Neto e para dar nome ao Grupo Policial Mutante criado pelo Personagem homônimo Capitão Bioclone.
Lema

"Honra, Justiça, verdade, igualdade e liberdade. Por uma humanidade protegida".
Criador do Universo Distrito Mutante
Esse maravilhoso universo fictício foi criado pelo Professor Djalma de Paiva Neto em sua infância durante os anos de 1983 e 1984. Ele criou personagens baseados nos nomes e personalidades de pessoas que e

le conhecia, seus parentes, seus amigos e conhecidos.
Inspiração
Djalma era apaixonado por HQs de heróis, principalmente de Mutantes como os X-men e de Meta-humanos como a Liga da Justiça e os Novos Titãs. Ele criou seu universo particular a partir dos conceitos de heroismo e dos poderes. Ele também teve influência mais nos dias atuais do Seriado Heroes (Heroes).
Primeiro Personagem: O Capitão Bioclone
O ponto inicial desse universo Dm foi dado com a criação do Personagem Capitão Bioclone, ou seria melhor, O Professor Djalma Neto, fundador do Projeto Distrito Mutante, a Polícia Mutante, que iria patrulhar inicialmente o nosso estado do Rio Grande do Norte (Brasil), ganhando créditos para comandar o Brasil inteiro e criando laços com a ONU para tratar de assuntos de segurança pelo mundo todo e até no espaço.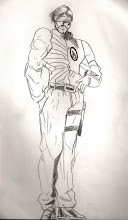 Ad blocker interference detected!
Wikia is a free-to-use site that makes money from advertising. We have a modified experience for viewers using ad blockers

Wikia is not accessible if you've made further modifications. Remove the custom ad blocker rule(s) and the page will load as expected.