Hi guys, I am introducing myself to the community.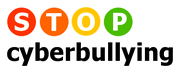 You have to stop cyberbullying.
Today, we will learn what is cyberbullying.
What cyberbullying is
Cyberbullying is when you constantly bully people.
Restrictions


No constant bullying.
Examples


Constant name calling
Punishments


May end up in ban from school
Ad blocker interference detected!
Wikia is a free-to-use site that makes money from advertising. We have a modified experience for viewers using ad blockers

Wikia is not accessible if you've made further modifications. Remove the custom ad blocker rule(s) and the page will load as expected.