Hi Wikia!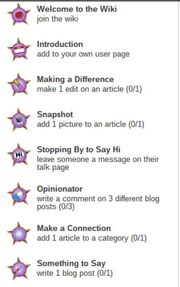 I am Donkey Kong. Showing you wikia badges if you don't know how to use them. So, badges are used when you edit the Wiki Features in the admin dashboard (see image below). To enable, just click the enable button to get achievements added to your wiki! (example wiki). Badges are like a competition to get to the top of the leader board.
What To Not Do When You Have Badges
Spam to get edit achievements.
Spam to get more achievements.
To make your own wiki to have achievements, just click here if you want to get a wiki!
Thanks for reading my blog. Check out wikia staff blogs every few days/weeks. All you need to do is go to a blog, and click "Follow this blog"