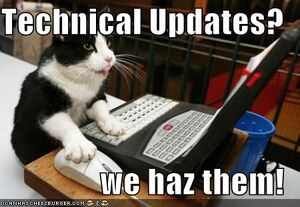 At Wikia, we make dozens of improvements to the site every week -- fixing bugs, introducing new features, and improving our interface so that it's easier and more powerful. To help keep you aware of major releases, we write blog posts, update help pages, and sometimes send out sitewide messages. But what about the small, every day fixes? For those, we have Technical Updates.
Every Tuesday, we put together a list of the top changes and known issues that we think you're most likely to notice or wonder about, and then we publish it on Community Central. We keep the format clean and simple (just the facts) so you can easily find the information you're looking for each week.
Why do we post our Technical Updates on Tuesdays? Because our weekly code release happens on Wednesdays, and we like to give you a heads up before things happen.
Our favorite part of the this weekly report series is the discussion that happens in the comments. Some of our most helpful and technical users chime in right away to add more information, answer questions, offer tips for advanced customization, and report issues we weren't aware of yet. It's a weekly opportunity to discuss the details of Wikia's setup, and we learn a great deal from what you have to say.
Since today is Tuesday, here are a few of the updates we just posted for you:
Major Bugs Fixed

Image maps have been fixed after returning red error messages over the last week.
A number of logs (deletion logs, user rights logs, upload logs) wound up missing a few entries last week. We have resolved the issue so logs are complete moving forward.
Other Notable Changes

On wikis with the new navigation, we're making some changes to the top part of our pages and the right rail. We've made the article talk/comment bubble into a button, and are changing its alignment. We're moving the wiki's page count from the sidebar to the header. The "Add a page" button will now only be accessible through the "Contribute" button in the navigation. And lastly, we're adding a few horizontal lines to help distinguish between parts of the page. (Reminder: Wikis with the old style of navigation will not experience these changes. Navigation style can be adjusted in Wikia Labs.)
Known Issues

Quick Stats in the Admin Dashboard has been working inconsistently.
Accesskeys (shortcuts like [r] for recent changes or [h] for pulling up page history) aren't working properly.
You can view the full report here and chime in on the comments section.
If you'd like to keep up with our Technical Updates every week, you can find them in our wiki navigation under the Staff Blog section (or simply click here to subscribe).
Looking forward to your input!