last post
, the mobile industry has given us plenty of headlines -- Apple introduced the world to its sassy personal digital assistant, Siri, Kindle released its $199 alternative to the iPad, and the number of catapulted Angry Birds reached a mindblowing 400 billion. Pretty surreal, huh? In Wikia's mobile bubble, we have been working tirelessly to expand our line of products. But this doesn't mean we couldn't find time to give you a little treat to snack on...
And so, without further ado, we're excited to introduce PhotoPop, Wikia's first game application, created for fans, by fans!
Introducing PhotoPop
PhotoPop is a fast-paced photo trivia game that features photos of your favorite pop culture characters hidden behind a mask of tiles. Tap the tiles to get a glimpse of the hidden characters, and then quickly try to identify them. Be careful about how many tiles you tap and incorrect guesses you make -- the faster you guess correctly, the more points you earn. Wikia staff members have been developing a slight addiction to PhotoPop, and let me tell you, competition to get the highest score is FIERCE.
What does PhotoPop have to do with wikis?
For a selected wiki, the game pulls page titles and photos from pages in a designated category. Per game round, a photo is randomly selected from the pool of photos from all of the pages. Each photo is accompanied by four answer choices; three are randomly selected titles and one (the one that's the correct answer) is the title of the photo's page.
The mobile team would love to give a shout out to the community members who generously donated their time and effort to curate images for PhotoPop. To celebrate two November movie releases, we're releasing the game with spotlights on Twilight and Muppets. We plan to add more wikis in the future, so stay tuned and keep up the great work!
The techie details
One last interesting fact about PhotoPop is that it's composed of CSS3 and HTML5. This technology enabled us to release the game on three different platforms at once. Play the game on whatever platform you prefer: prove your pop culture expertise by playing the web version or by downloading Android mobile app. It's also coming soon to the iTunes App Store.
If you enjoy the game, please give us ratings and feedback in the Android marketplace and in the comments section of this blog post.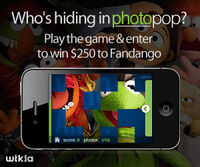 But wait, there's a contest, too!
If you play the game and tweet about it, you can also enter to win a $250 Fandango gift card. The contest runs until December 11, and you can find all the juicy details here.
Stay tuned for the next mobile team update. If all goes well, you'll be receiving a big Wikia Mobile holiday present.
Want to stay up to date on the latest feature releases and news from FANDOM?
Click here to follow this blog.
Interested in learning more about community management on FANDOM?
Click here to view our community management blog.