We're Hurting.
(This was written within a couple of hours of the news breaking. Unfortunately another website did not use my article so I am publishing here)
We have learned of the passing of one of the true legends of both cinema and stage, Sir John Hurt. Bear with me, this is a long one.  He was born in 1970 in the coal mining village of Shirebrook in England.  The son of a once time actress and an Anglican pastor, he initially showed some promise as an artist, before turning to acting as a teenager.
He attended the Royal Academy of Dramatic Art, and made his debut on stage at the age of 22, and began his more than 50 years of acting. He also scored his first TV and film roles the same year (1962) in the movie "Young and Willing", and TV shows "Z Cars" and "Probation Officer".  It was an auspicious start for such a talented man.
His breakout role came as Richard Rich in "A Man For All Seasons" (1966), and he continued in TV and film when he gained wide acclaim for playing Quentin Crisp in 1975's "The Naked Civil Servant", a based on true story about being a flamboyantly gay person in conservative England. Interesting titbit is that Sir John had actually met the real Quentin Crisp when he was in art school years before. It showed the world he really was made for strong character roles. It was something that would be his signature.
He also gained some acclaim for "I,Claudius" in 1976, playing Caligula, but it was the end of that decade that his popularity shot into the stratosphere. We had the double punch of "Alien" (1979) and "The Elephant Man" (1980) which were released closely enough together to really show off his acting chops.
"Alien" is one of his more famous roles as Kane, the alien incubator that suffered the iconic chest bursting scene. A scene which is so well known, that he reprised the role in "Spaceballs" (1987) to poke fun at its notoriety. His character wasn't in the movie for long, but made a lasting impact.
"The Elephant Man" cemented his place as a serious drama actor the following year, as the tortured John Merrick, a man who really existed in Victorian England. He was an intelligent man who was treated as an animal. The movie showed the amazing depths that Sir Johns acting could go to. Between the two movies, he would never be forgotten.
He since went on to act in more than 200 movies and television roles, accruing a staggering amount of awards including a Golden Globe, 4 BAFTA's, and numerous UK awards. The awards have been from the UK, USA, Germany, Australia, Denmark, and Italy.
His more famous roles include Mr Ollivander in the "Harry Potter" series of movies, Winston Smith in Nineteen Eighty Four (1984), Jesus in "History of the World: Part I", Adam Sutler in "V For Vendetta", Professor Broom in the "Hellboy" movies, the dragon in the "Merlin" TV series, and narrated "The Tigger Movie". He also appeared in "Contact", "Rob Roy", "Watership Down", "Tinker, Tailor, Soldier, Spy", "Snowpiercer", "Captain Corelli's Mandolin", and more Shakespeare than you might expect.
One of his most recent roles that received worldwide attention was playing the War Doctor in the 50th anniversary special of "Doctor Who"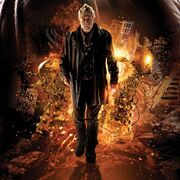 (2013). He stated that he was quite surprised at how well known it was, as he remembered it being more of a cult show and hadn't realised it was so mainstream. "I remember watching it when William Hartnell was in it, when it started. And all the scenery used to shake!", he said  (The One Show, Nov 2013). He also said it was one of the most difficult roles he ever had; partly because of the technical jargon, and partly due to the Doctor being so many complex characters in one.
In June of 2015 he was knighted, and within days Sir John declared he had been diagnosed with Pancreatic Cancer. However in October of the same year he stated he was in remission.  He has had ongoing ill health since then, but that has not stopped him from appearing in many films. His IMDB listing has 5 credits for the last year and another 4 for this year (unconfirmed if they were all completed). 
He led us through many emotions, wonders, and stories.  The world will be a poorer place, now his shining countenance is gone.