Today we're (choo-choo!) hopping on the mobile train. We have mobile app news and features to share. And oh my goodness these apps are incredibly popular.
Wikia released the first five Community Apps in November of 2013. Simple premise: Wikians produce high-quality, engaging content, and apps are a good way collect and organize content for viewers. Since then, we've released over 100 iOS apps and more than 80 Android apps, with no end in sight. Combined, these apps surpassed one million monthly active users a couple months ago. By any measure, those are incredible figures, and three cheers for our Mobile Apps team and their amazing products, as well as for you, the Wikians who create the amazing content featured in the Community Apps!
Like most features on Wikia, Community Apps are user-powered, which means admins have control over what gets displayed to users on the main page. You know better than anyone what's timely and popular in your communities, so if your wikia has a Community App -- I'm looking in your direction, Mad Men! You too, GoT! -- be sure to visit Special:CuratedContent early and often to keep viewers engaged. You have amazing content and this is a great opportunity to showcase it.
Our apps are always in development, and a big update with a bunch of new features just landed in the App Store and on Google Play. The app's main page got a makeover:
Navigation got completely redesigned, with a tab view for iOS and a nav drawer for Android. We added the "Communities" tab so folks can switch from wikia to wikia seamlessly, but my favorite new addition is the "Random" tab on the iOS apps, because it's an opportunity to look like a goober while I shake my phone in public.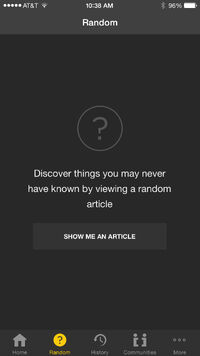 But the coolest new feature in this round of updates? Tablet support is now native!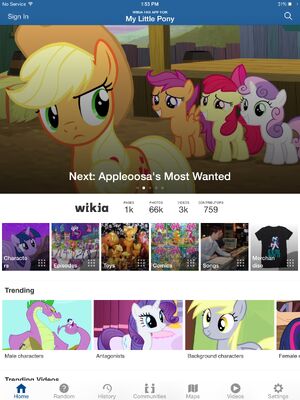 Go download the app for your community and tell us what you think! We have been working hard on these apps, but we know we have many more communities that would benefit from them. If you think yours is one of them, please leave a comment here or send a submission via Special:Contact, Attn:Ducksoup. I can't make promises about release, but I can guarantee that I'll go make your case to the mobile app product manager.
Questions? Comments? I'm here to answer them!
Want to stay up to date on the latest feature releases and news from FANDOM?
Click here to follow this blog.
Interested in learning more about community management on FANDOM?
Click here to view our community management blog.