Hello everyone!
So, Im new to WIki and this is my first blog post! I am stating a Clan called Edge clan! ANd looking for new cats.
If you would like to join,Meet me in my den at any time that works for you! My username is Starynightsawaken And I am very excited to meet you all! If you are going to join please be sure to read my Jammer wall as it has some info about the rules of this clan. 
The setting
Our camp is set up in an abandoned tree house in the middle of  a forest. It is Summer and Mosquitos and Ticks are spreaing horribly fast.
Rules
-Realistic colors only
-No power playing
-no "magical powers"
-no being rude
-no disobeying the leader or deputy
-MUST be a wolf or bunny 
And thats all if you have any more questions me contact me through Animal J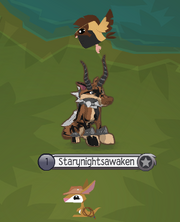 am!