Well.. Hi! Call me Wolfie, I'd like to tell you a bit about myself. I like Animal Jam, I love 5sos and 1d,  LPS, and Anime. So.. I don't really know what to talk about.. This account will basically be about Animal Jam, and probably Anime. WELL.. BAIIII. I probably won't upload much, So don't expect much from this account. xD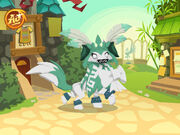 Ad blocker interference detected!
Wikia is a free-to-use site that makes money from advertising. We have a modified experience for viewers using ad blockers

Wikia is not accessible if you've made further modifications. Remove the custom ad blocker rule(s) and the page will load as expected.