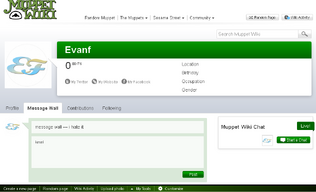 Well, it looks like the Message wall has been released, *sparks fly*, *Someone shoots the sparks down*. Seriously, I hate it. Yeah, my opinion, blah, blah, blah. But it is just... Unneeded. I mean, we all like talk pages, and archives, etc. Here? NO! We have little article comments which can be deleted and it is very unorganized. It gives me a headache just looking at it.
OK, that was kind of mean. Well, forget about that, tell me your opinion in the comments below.
Until Next Time,
Ad blocker interference detected!
Wikia is a free-to-use site that makes money from advertising. We have a modified experience for viewers using ad blockers

Wikia is not accessible if you've made further modifications. Remove the custom ad blocker rule(s) and the page will load as expected.