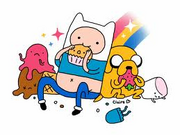 Here is finn and jake enjoying some food while finn develops a large tummy <3
I looooooooove adventure time cuz its really funny and has cute charactors such as the tribe of cuteness, starchy and many more. I also love this show becuase Finn and Jake are 'not bad....super good' so here is the whole awesome richeous quest..err....thing of Finn and Jake and also a few other fun things along the way, if i have to prove im the bestest fan of Adventure time then i will like this: no. 1: im getting a finn hat! and seeing the screeing of adventure time at hoyts
and no. 2:
Adventure time, c'mon grab your friends
We're going to very, distant lands
With jake the dog and finn the human
The fun shal never end,
Adeventure Time! <3
Bye! xoxox
Ad blocker interference detected!
Wikia is a free-to-use site that makes money from advertising. We have a modified experience for viewers using ad blockers

Wikia is not accessible if you've made further modifications. Remove the custom ad blocker rule(s) and the page will load as expected.