The mystery of Roanoke is about the last group of colonists that disappeared during the Anglo-Spanish War, three years after they received the last shipment of supplies from England and while Raleigh returned to England for supplies. (Her daughter Eleanor stayed in the colony). 
Their disappearance gave rise to the nickname "The Lost Colony."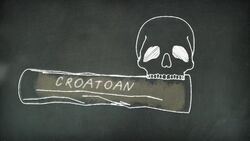 Scot Walter a forensic geologist analyzed the Dare Stones.  Between 1937 and 1941, 48 stones were found. The first one was found in 1937 and it had a carved message saying that Eleanor husband and daughter (the first child of English parents born in America) had died.
He investigated clues from the Roanoke Island to the northeast of Atlanta. He found evidence that the stones were real and that the colonists had probably moved in land. He found information in England a woman gave to him a map. He concluded that from the following clues: the stones allover the area, a Fort symbol and the sassafras plantations in the area. According to his investigation the group was trying to survive and to get some useful crops to England because the Native Americans wanted to kill him.
Ad blocker interference detected!
Wikia is a free-to-use site that makes money from advertising. We have a modified experience for viewers using ad blockers

Wikia is not accessible if you've made further modifications. Remove the custom ad blocker rule(s) and the page will load as expected.