Today Is The 3rd Day Of Comic-Con, And Today Is Nearly Over, Tomorrow Is Last And Final Day Of Comic Con. If Your At Comic-Com Right Now, For Tomorrow I Would Recormend Going To These Events ~
10:00-11:00am Supernatural Special Video Presentation and Q&A
11:00am-12:00pm What's Hot in Young Adult Fiction
12:30pm-1:30pm BBC America's Doctor Who 50th Anniversary
12:30pm-1:30pm X-Men
1:00pm-2:00pm Beware the Batman Screening and Q&A
4:15pm-5:00pm Harry Potter: Still Magic!
They Are The Best Events On. Not Happy? Well There Is Some Other Events On That Day. Or You Could Just Go Around Buying Stuff, Or Hang With Your Friends. Comic-Con 2013 Was A Big Sucess, Lets Hope It's Ending Day Is As Good As It's Opening Day!
(This Was My First Blog Post, Sorry For It Being Rubbish, My Other Blogs Will Be Better :D)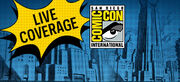 Ad blocker interference detected!
Wikia is a free-to-use site that makes money from advertising. We have a modified experience for viewers using ad blockers

Wikia is not accessible if you've made further modifications. Remove the custom ad blocker rule(s) and the page will load as expected.