I honestly think that sardonyx is my personal favorite fusion from Steven Universe not because of her looks. But for her personality. Her movements are swift and clean (like pearl) and she remains calm and collected (like garnet). Though she does seem to show off a bit, she has a very high self esteem they works with her fighting style.
Sardonyx describes herself as "charming" and "elegant". And honestly, I can agree. She enjoys what she does and puts on an entertaining show for Steven. Though I like other fusions like opal and Alexandrite,sardonyx takes the cake.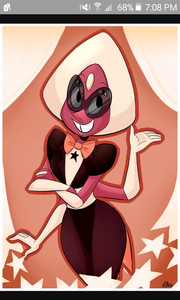 Ad blocker interference detected!
Wikia is a free-to-use site that makes money from advertising. We have a modified experience for viewers using ad blockers

Wikia is not accessible if you've made further modifications. Remove the custom ad blocker rule(s) and the page will load as expected.