Hi All,
Today I wanted to give you a recap of a survey we recently conducted across Wikia to learn how Wikians are viewing and using video - both on Wikia and on the web in general. I wanted to share this information with you so that you, as a contributor, get valuable insight into what your community and audience is looking for when visiting your wiki.
Survey Results & Conclusions
The survey began in December 2012 and was completed by over 2,000 Wikians (thank you!). This included a broad range of wiki topics and users from various participation levels.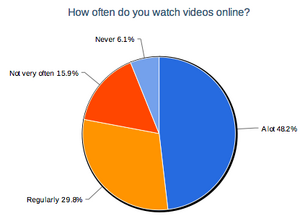 Almost 50 percent of our survey responders say they watch video online a lot. This finding is in line with the general industry trend for watching videos online. According to Cisco, video will increase from 30 percent of Internet traffic to 90 percent of Internet traffic by 2013 (Cisco, 2010). However, only half of the users who said they watch a lot of video have been able to find videos to watch on Wikia. Furthermore, almost 50 percent of the users who said they haven't watched a video on Wikia have not done so because they had never come across a video on Wikia. Of those that have watched a video on Wikia, 38 percent said they watched an embedded video on a page.
How can you use this information to engage your audience? Many of your viewers are people who like to watch a lot of video. Adding relevant video into your articles next to your content is a way to meet your community's needs and encourage them to explore your wiki further. Interested in our how different wiki topics (video games, entertainment, etc) breakdown? Check out the detailed results here.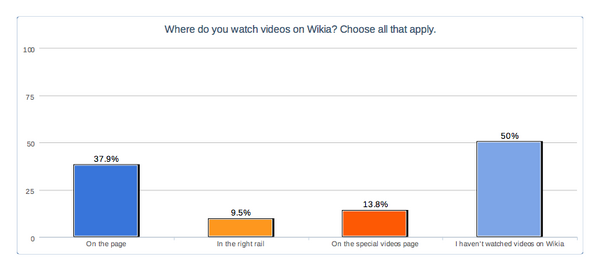 What we're doing
We've been putting big efforts into video on Wikia because video is forcing a major shift in the way that people are consuming content online. Video not only has the power to drive more traffic to your wiki through search, but also to increase engagement with the rest of the content on your site. As a result, you are left with more engaged visitors. Video = opportunity to grow.
Enterprise search provider Attivio found that pages with video attracted 2-3x as many monthly visitors, doubled time on site, and achieved a 157% increase in organic traffic from search engines (MarketingSherpa, December 2011). And according to SEOmoz, blog posts incorporating video attract three times as many inbound links as blog posts without video (SEOmoz, October 2009). This all leads to more time spent on your wiki - which results in more people reading your content, joining your community and potentially becoming your next top editor.
Wikia is making great strides to improve the video experience on Wikia - increasing search engine visibility, offering Wikia Communities licensed content through our library (available at video.wikia.com) and improving the viewing and contribution tools across the platform.
Based on the results, we will be investing more resources to building out the video experience on Wikia to help support communities and their video objectives. A full white paper report on the survey can be found here. If you have requests, ideas or just general feedback on video on Wikia, please let us know below!
Want to stay up to date on the latest feature releases and news from FANDOM?
Click here to follow this blog.
Interested in learning more about community management on FANDOM?
Click here to view our community management blog.