The Marrusia F1 Team was an Anglo-Russian Formula-1 racing team, based in Banbury in the UK. The team was managed by Marrusia Manor Racing (Now known as Manor Racing Team), wich was a subsidiary of Marrusia Mototrs, a now defunct sports car manufacturer wich is based in Moscow, Russia. The team originally started racing in 2010 under the "Virgin Racing" name; the following year Virgin adopted Marrusia as a title sponsor becoming "Marrusia Virgin Racing" until being fully re-branded as the "Marrusia F1 Team" for 2012. The Marrusia Team scored it's first champoinship points at the 2014 Monaco Grand Prix where  the teams leading driver Jules Bianchi finished ninth (2 points) in doing so Marrusia became the first Russian licensed constructor to score world championship points.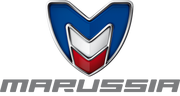 Ad blocker interference detected!
Wikia is a free-to-use site that makes money from advertising. We have a modified experience for viewers using ad blockers

Wikia is not accessible if you've made further modifications. Remove the custom ad blocker rule(s) and the page will load as expected.