This guest blog post is from a member of the Fandom community.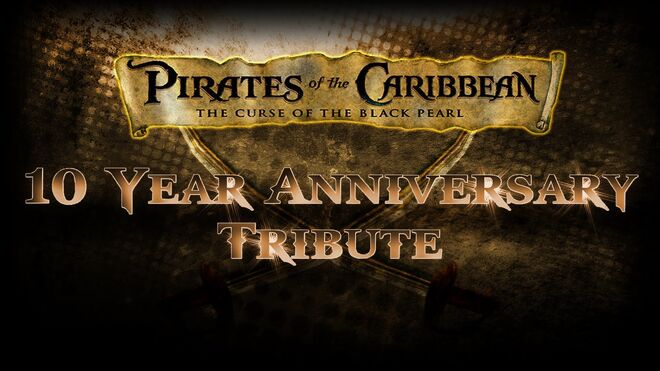 Greetings, fellow Wikians, J Fan here. I'm an admin on the Pirates of the Caribbean Wiki and we recently celebrated a very special anniversary: 10 years since the release of Pirates of the Caribbean: The Curse of the Black Pearl, the first film in the popular Pirates franchise. In honor of this, we carried out a number of initiatives and I am writing here to tell you about them.
So what did we do?
Started early. You know, the old saying "the early bird gets the worm"? Well, even though the actual anniversary date isn't for several months, you're never too early to celebrate. We got things started around New Year's, where several things were updated. These include, but are not limited to, the Main Page, our Wiki's background, and a blog post announcement. Even our Wiki's countdown clock was updated to not just celebrate the 10th anniversary of the film's release but also the 46th anniversary of the original Disney attraction's opening.
Spread the word! Since the wiki had been CotBP-ified (Curse of the Black Pearl-fied for all you non-Pirates) for the occasion at New Year's, our next step was to promote what was going to happen in the coming months. For example, I suggested we could count down over at Keep to the Code Forums, a well-known Pirates fansite; of course the forum would focus on the movie itself, but there's always room for some promotion. We also spoke with admins from POTCO Wiki, who agreed to promote it there. Spreading the word help others to learn about the anniversary as well as our wiki!
Created Content. Our original plan was to to get started with one (maybe two) blogs starting July 1st. But because of how large this milestone was - again, 10 years - we decided to do 3. The first was posted on June 25th, the second on July 2nd and the last on the anniversary date of July 9th. My plan is to keep these up for at least one month. We decided to make these blogs different from what was done before, mainly for this occasion (and of course future BIG occasions). So with the assistance of Dentface and JoshuaCoalskull, both POTCO Wiki admins, we made the blogs super flashy by using a background based on what was done in SimCity Wiki. Our blog included:
Blog #1 - The main blog introducing the anniversary, giving details what the milestone is, etc. Great for those just getting into the subject of interest.
Blog #2 - A blog about the film's production trivia. This I kinda took from a POTCO Wiki admin, plus with a franchise with rich history, there's bound to be interesting trivia-esque info that fans don't know.
Blog #3 - The final blog which would have the "Happy Anniversary" feel to it along with ending with a bang. For this blog, we decided to post a tribute video which included a clip from the film which was the first scene Johnny Depp filmed as his iconic character Captain Jack Sparrow.
Now again, every wiki works different. For the most part, I've pretty much set up the whole thing myself...though it was because my co-admins more or less had other obligations. But despite this, I have asked for their opinions on plans made, so everyone knows what was going on. Still, there has to be teamwork or agreement in what goes on; as the saying goes, two heads are better than one. Even if you have to go to a sister wiki or a Wikia user you trust that could help out, that'd make the event more special.
Has your wiki celebrated an anniversary? What did you do? I would love to hear more in comments!
Want to stay up to date on the latest feature releases and news from FANDOM?
Click here to follow this blog.
Interested in learning more about community management on FANDOM?
Click here to view our community management blog.