Hello!
Last week, we announced a beta partnership with Rotten Tomatoes for their "TV Tomatometer." The new TV Zone is featuring a limited set of Wikia episode content, and as we evolve out of beta we'd like to expand the TV communities featured. In order to do so, we have some tips for making your content most readable for the TV Zone experience.
As both Rotten Tomatoes and Wikia are working out kinks in the product, we do have some best practices that we suggest all TV focused wikias implement - this will help improve the reading and editing experience for all visitors to your community.
First up: Episode page layout
We suggest using a clear and consistent format for all your episode pages that include headings to separate sections (Plot, Synopsis, Trivia, Cast etc). The Arrested Development wikia does a great job of this: http://arresteddevelopment.wikia.com/wiki/The_B_Team You can see that they use an organized and consistent set of section headings on all their episode pages.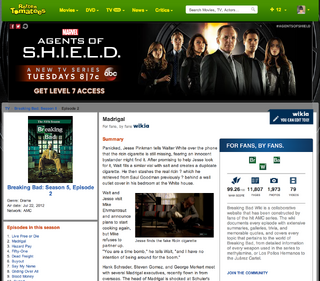 Rotten Tomatoes is looking for some specific keywords when gathering Wikia content for the TV Zone:
Full Recap
Episode guide
Episode Guide (note capitalization difference)
Plot Synopsis
Plot
Synopsis
Recap
Description
Overview
Summary
Episode Recap
Choosing to use those keywords as necessary in your episode pages will make a big difference in the correct information being displayed on the Rotten Tomatoes side.
Spoilers Ahead
The common "Spoilers ahead" tag we often see on Wikia actually breaks the formatting on Rotten Tomatoes! I don't want to get into a discussion on various spoiler policies but I do suggest asking your community this question: Is a spoiler warning on an episode plot (when the show has already aired) really necessary? We suggest not using a spoiler tag on episode plots if the episode has already aired.
Other bits and pieces
The partnership between Rotten Tomatoes and Wikia is in its infancy. Both teams are working hard on improving the experience for all our TV fans. In the coming weeks, we'll be releasing a new API for Rotten Tomatoes to use when querying Wikia communities. One of the improvements you'll see after this release is that episode pages that include special characters in their URLs will be able to be shown on Rotten Tomatoes (this is currently failing).
Several people asked how often the Wikia content on Rotten Tomatoes is updated - the answer is that it's updated on page load (allowing for some caching - it may not be 100% instant).
Rotten Tomatoes will be adding new TV shows to their offerings periodically, and we're currently working on the most efficient way to get that information ported over to them. In the meantime, it will be a bit of a manual process. Your patience is appreciated.
Thanks!
Want to stay up to date on the latest feature releases and news from FANDOM?
Click here to follow this blog.
Interested in learning more about community management on FANDOM?
Click here to view our community management blog.