Halloween is just a few, short days away. Are you doing anything special on your wiki this year, like adding dripping blood (shudder), creeping spiders, or floating bats to your pages? Maybe
Michael Myers
will be making a special guest appearance?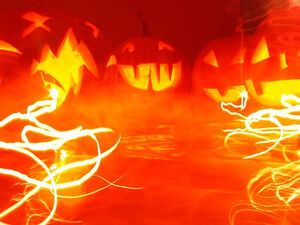 We want to hear about your community's Halloween plans this year. Post a link in the comments below so we can all marvel at your spooktactular creativity!
In the meantime, check out our list of horror wikis to put you in the Halloween mood. Also, check out these two scary wikis:
Or maybe you're more into treats than tricks. Check out these crafts and dessert ideas:

Want to receive updates on the latest Staff blog posts? Then click here to follow this blog.
Ad blocker interference detected!
Wikia is a free-to-use site that makes money from advertising. We have a modified experience for viewers using ad blockers

Wikia is not accessible if you've made further modifications. Remove the custom ad blocker rule(s) and the page will load as expected.