Comments

0
Series 12- Food Factory Moshling Figures!
Ad blocker interference detected!
Wikia is a free-to-use site that makes money from advertising. We have a modified experience for viewers using ad blockers

Wikia is not accessible if you've made further modifications. Remove the custom ad blocker rule(s) and the page will load as expected.
Well, On the 22nd of January, 2015 Series 12 Moshlings were released! Well, here is a picture of them!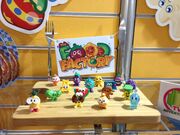 Well, the figures are: Gobbi #FF01 Coolio #52 Dweezil #FF02 Fizzy #76 Squelch #175 Grott #FF03 Hansel #59 Pinestein #165 Thumpy #FFO4 Reggie #FF07 Dillby #FF08 Tingle #FFO6 The Ultra Rare's!! Oddie #88 Micro Dave #124 Cutie Pie #91 Milo #FFO5