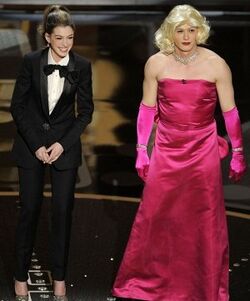 Did you miss the red carpet festivities last night? Don't worry, we've compiled all of the gilded highlights from the 2011 Oscars right here for your commercial-free enjoyment.
The Oscars unfolded with very few surprises this year. As expected, the British film "The King's Speech" swept up little gold men for Best Picture, Director, Screenplay and Actor. Colin Firth, charming as usual, warned the audience that he was fighting the urge to dance onstage, and joked: "I've a feeling my career has just peaked." Newly pregnant Natalie Portman, radiant in a purple Rodarte number, won Best Actress for her role in "Black Swan" (and best dressed of the evening, in our opinion -- we're pretty sure Wookiepedia will back us up on that one.)
We were excited to see what first-time hosts Anne Hathaway and James Franco would bring to the table this year, and they got off to a good start with a clever spoof of Inception. Unfortunately, Hathaway and Franco's chemistry seemed to be out of sync from that point on. Franco was lackluster even in a pink silk evening gown, and Ms. Hathaway's eight different costume changes, while lovely, failed to excite us.
It was no big surprise to anyone when Alice in Wonderland scored Best Art Direction and Costume Design, while Inception swept up well-deserved awards for Best Cinematography, Sound Editing and Sound Mixing. We were shocked, however, when James Franco flippantly told the proud winners of the technical awards: "Congratulations, nerds." He may have taken his devil-may-care Oscars attitude too far with that one-liner.
Christian Bale, who spent the first part of the show having drinks with his wife, was accidentally locked out of the the awards show for arriving late. He made it in just in time to accept his Oscar for Best Supporting Actor in "The Fighter" and graciously thanked his family. Bale's co-star Melissa Leo was less eloquent, tarnishing her acceptance speech for Best Supporting Actress by dropping the first f-bomb of the evening.
What were your favorite parts of the 2011 Oscars? Share your thoughts below.
Want to receive updates on the latest Staff blog posts? Then click here to follow this blog.