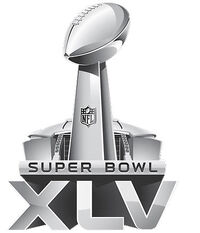 Are you ready for Super Bowl XLV? Wikia's got everything you need to get in the Super Bowl spirit this Sunday.
If you're hosting a party, you'll need to feed the fans. Recipes Wiki's gooey nacho cheese dip, soy-glazed chicken wings and crispy potato skins are so good they'll have Steelers and Packers fans bonding over the snack table.
It's easy to become parched when hollering at the flat screen, so mix up a pitcher of classic Arnold Palmers to keep your crowd refreshed. Wikians over the age of 21 may want to set up a cocktail station and serve Super Bowl themed libations like the Quarterback Sack from Cocktails Wiki.

Everyone eventually gets bored during commercial breaks, so why not compete with your guests to see who can be the first to name all of the songs in Glee Wiki's Super Bowl Mixup Contest? If you're a true Super Bowl Gleek at heart, you know that Season 2 of Glee returns on Sunday after the big game. Check out the Glee Super Bowl Guide for more Glee-themed party ideas.
Are you throwing a Super Bowl party this weekend? Share your tips below!