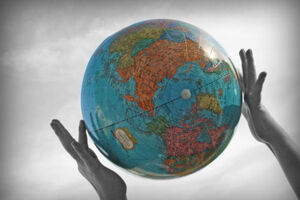 Happy Earth Day, Wikians!
All across the world today people are thinking green. Here at Wikia, we've found some of our local wikis joining in! Inspired by the environmentally conscious cast of Glee, the Glee Wiki community is discussing the green mindset. Over at the Olympics Wiki, you can learn about Olympic athletes who are lending their support to the environmental movement.
What about you? Are you looking for ways to "green" your life? Below are a few simple ways you can incorporate environmentally-friendly living into your daily routine:
Reduce your impact on the environment.
All of our actions have an impact on the world around us, from the food we eat and the clothes we wear to our means of transportation. Your impact on the environment is often referred to as your carbon footprint, which describes the amount of carbon (the leading cause of global warming) that is released into the atmosphere as a result of your decisions. Reducing your carbon footprint is the first step to leading a greener lifestyle.
Reducing your carbon footprint doesn't have to be difficult or expensive -- it's all about making small everyday choices. Take a look at your life to see what changes you can make. Does your morning coffee have an especially large carbon footprint? Do the beans often travel long distances before reaching your cup? A good way to change that is to support local and fair trade brands. This will help offset the carbon impact of your daily double latte and help support local businesses. Buying local, organic and sustainable products means a smaller carbon footprint and a healthier local environment.
Grow something!
You don't have to be a farmer to have fresh vegetables at your fingertips. If you plant a vegetable garden this spring, you'll never have to look far for salad ingredients. You can't get much more local then your own backyard (or rooftop)! Growing your own food also means you can control the chemicals your food is exposed to. If you don't have space for a garden, check out a local CSA. CSA stands for Community Supported Agriculture, and involves a group of people buying shares of a local farmer's harvest. As a member of the CSA, you get a portion of whatever the farmer grows. It's an easy way to eat seasonal meals and support fresh local food.
Upcycle.
Every time you buy something new, you increase your carbon footprint. Recycling doesn't have to be boring -- learn how to turn an old crate into a chic new side table, transform your mason jars into cute soap dispensers, and make an adorable pair of earrings using old paperclips and just a few supplies at the Easy Crafts Wiki.
What are you doing to contribute this Earth Day? Share your green tips in the comments below.