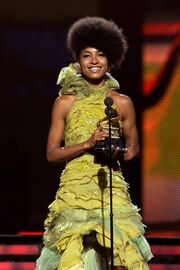 If you missed the Grammys this weekend, don't fret -- Lyric Wiki's got the scoop on
winners
, losers, red carpet shenanigans and more.
Check out our Top 10 Grammy Awards Highlights to find out what Gwyneth Paltrow wore to perform with the Muppets, how female jazz bassist Esperanza Spalding beat the Biebs in the battle for Best New Artist, and why Lady Gaga arrived on the scene encased in an alien egg.
Maybe we're black-hearted, but we think the most entertaining parts of the show were the epic fails. Xtina almost fell off of the stage, Willow Smith wore a cape...as a skirt, Nicki Minaj's outfit left us seeing spots, and Grammys reporter Serene Branson was apparently so excited she couldn't quite find words to describe the evening.
What did you think of the Grammys? Were you happy or disappointed with the winners?
Want to receive updates on the latest Staff blog posts? Then click here to follow this blog.