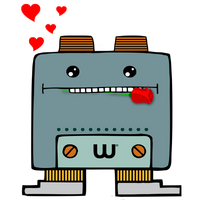 Valentine's Day is almost here, and love is in the air. No matter what you love, Wikia's got you covered.
Still racking your brain for the perfect date idea? According to a survey by professional match making service It's Just Lunch, 61% of men consider a romantic dinner at home the ideal Valentine's date. Need a recipe for love baking? Wake up your honey with a foam heart latte, then indulge in a romantic evening with chocolate sauce and strawberries, a Valentine's cocktail by candlelight. Hint: Enter to win a $50 iTunes gift card from Lyric Wiki and create the perfect soundtrack for romance. If that doesn't make the apple of your eye swoon, you may need to resort to Jedi mind tricks...
What about for the ladies? The same survey showed that only 4% of women consider the traditional box of chocolates an ideal Valentine's Day present, so roll up your sleeves and get creative! When it comes to gifts, handmade is always more meaningful. Craft a special valentine for your loved one, put together a date night basket and plan a special moonlit picnic. If you don't have time to cook up a romantic meal -- after all, it is a Monday -- why not enter to win a romantic dinner for two from Family Recipes Wiki? Wining and dining your sweetheart on someone else's dime -- now that's what we call smart.
For more inspiration, explore our resources on Anime Love, Video Game Love, Muppet Love, Vampire Love, Gleek Love and Undying...er...Undead Love. And, we all know that money can't buy love, but a little extra spending cash is always lovely. Tell us who or what YOU love most for a chance to win $300 in our What Do You Love contest. Hurry, though -- this contest ends on Monday.
How are you celebrating Valentine's Day this year? Share your ideas below.
Click here to receive updates on the latest Fandom contests and giveaways.