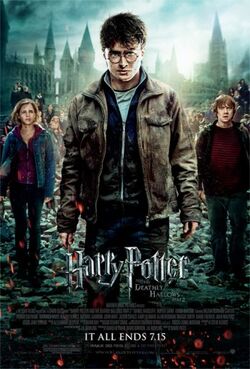 From lengthy novels to Hollywood blockbusters, Harry Potter has taken the world for a spin the past 14 years. As many of you Wikians already know, the final movie in the series, Harry Potter and the Deathly Hallows Part 2, will be released to the masses in less than a week. This marks the end of an era; whether you're a Harry Potter fanatic or not, there's no question about it: Harry Potter is a pop culture phenomenon.
To celebrate, the Harry Potter Wiki is going nuts over this final milestone. Here's a round-up of what's happening:

If you haven't already visited the Harry Potter Wiki, be sure to check it out. It's one of Wikia's largest communities, and has been around for six years. The site is now 3x the size of MuggleNet, another popular Harry Potter fan site. Here's another fun fact: there are more than 8,000 articles on the wiki — that's double the number of combined pages in the entire Harry Potter book series!
Are you excited to see the final Harry Potter movie, or are you upset that it's all coming to an end? Leave a comment below and share your favorite Harry Potter experience, whether it was dressing up for midnight premieres or staying up past 4am to find out what a horcrux is.
Also, just for fun: if you're into Star Wars and/or Harry Potter, check out this comparison chart.