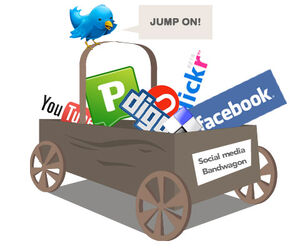 Are you following Wikia on
Facebook
and
Twitter
? If you are, you might have noticed that our Social Media Team has been hard at work promoting wikis and keeping you up to date with contests and interesting pop culture news related to
gaming
,
entertainment
, and
lifestyle
.
Social media can help your wiki grow
Social media is a useful communication tool, and social networking sites can help boost traffic to your wiki. Last month, Facebook and Twitter drove over one million referrals to Wikia sites.
Social media can also be used as a news feed to share what's happening on your wiki. We've been sharing cool news from Wikia's 275,000 communities through Facebook and Twitter; visiting those pages, you can easily learn about the company and find new wikis to explore.
You can use social media in the same way to reach out to your own wiki community and attract new editors. There are so many social media sites: Facebook, Twitter, Google+, YouTube, Digg, Flickr — right now, we're focusing on Facebook and Twitter for wiki promotion, although you can experiment with other sites.
Here are a few tips to kickstart your social media presence, links out to some helpful resources, and a few shout-outs to wikis that are kicking butt on Facebook and Twitter.
Getting started
If you want to create social media accounts, when should you do it? And what should your next steps be? Some quick tips:
Wait till you have wiki activity. We recommend that your wiki has at least a few motivated editors and a handful of pages before you create Facebook and Twitter accounts. This way, you have something substantial to link out to in your posts. Learn more about starting and growing a wiki here: Start a Wiki: Tips for Success
Plan ahead. When you think your wiki is ready, talk to the editors and/or admins about social media. Make a list of goals; also, determine what type of material you'll tweet and who will be in charge of maintaining the accounts (responding to comments, replying to tweets, posting new content, etc.). Organization is key!
Find your voice. Every community has unique characteristics; your posts on Facebook and Twitter should reflect your wiki's tone and style. Tweets about Avatar Wiki will have a different voice than tweets about Muppet Wiki.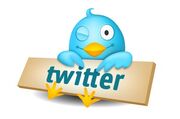 Spread the word
It's important to let people know that you have social media accounts for wiki promotion. "Promote the promotion tools?" you might ask. Yup! You want to make the accounts as visible as possible to gain followers. Here are some suggestions:
Advertise on your wiki. No, not flashy banner ads. Once you have these accounts set up, you'll want to inform your community. Post links to the Facebook page and Twitter account on your wiki's main page. Learn how to embed Facebook and Twitter widgets on your main page here (and if you still need help, contact the Content Team). Also, write blog posts that talk about your social media efforts and ask your editors for help keeping the content fresh and relevant.
Hashtags, hashtags, hashtags. On Twitter, use relevant, trending hashtags at the end of your tweets, like #gaming, #HarryPotter, or #StarWars. Your tweets are more likely to be featured in searches if you add keywords to the post.
Engage with communities outside Wikia. Interact with social media accounts related to your wiki's topic of interest, even if they aren't Wikia users. Hey, you might just convince someone to join the community!
Check out Tips for Promoting Your Wiki for other useful tips and tricks.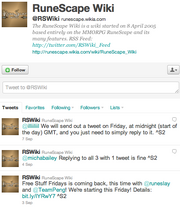 Wikis with successful social media strategies
We're really excited that some wikis are already adopting awesome social media tactics. Get inspired by their ideas:
What works for you?
If you've already started using social media to promote your wiki, share your experiences here. Do you have any interesting tips up your sleeve? Please leave your suggestions in the comments below.
Want to stay up to date on the latest feature releases and news from FANDOM?
Click here to follow this blog.
Interested in learning more about community management on FANDOM?
Click here to view our community management blog.