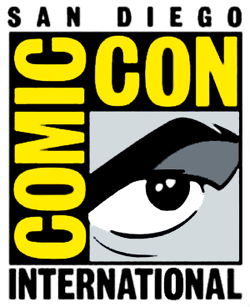 Wikians, will you be attending Comic-Con this week? We're gearing up for several days of blissful comic book geekery, crazy costumes, awesome announcements, celeb sightings, and limited edition swag.
You're invited...
There are so many exciting events happening at SDCC, but you won't want to miss Wikia's epic Captain America launch party. We're teaming up with SEGA to celebrate the new Captain America: Super Soldier video game release. If you're in town for SDCC (and if you're 21 or over), come find us at the Rock Bottom Brewery on Thursday, July 21 at 8:00pm for Marvel trivia, great prizes, Captain America beer on tap, and more!
Tweet, tweet
Wikia staff will be live tweeting from SDCC this year, so make sure to follow us for the latest news — plus, if you find us on the convention floor wearing our Wikia shirts, you could win a prize. We'll be tweeting updates from the DC Universe as well as scoping out the upcoming releases, like J.J. Abrams' Alcatraz, Game of Thrones, and the next Twilight movie.
Giveaways galore
At Comic-Con, it's all about the swag. We'll be making the rounds to get the signatures you covet and talking to everyone we can get our paws on, including some comic book greats like Roy Thomas, Jeff Smith of Bone, and Scott Westerfield. The best part? When we get back, we'll be running contests on the Comic-Con Wiki and giving away all of the loot we score. We know you love exclusive goodies, so check the wiki for updates on how to score free stuff.

Are you a Comic-Con veteran? Share your survival tricks, favorite things to do, and best SDCC memories in the comments below. If you're a Comic-Con newbie, or if you're just really pumped for this year's convention, what are you most excited about (and why)?
Want to stay up to date on the latest feature releases and news from FANDOM?
Click here to follow this blog.
Interested in learning more about community management on FANDOM?
Click here to view our community management blog.