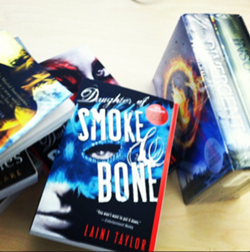 Hello fellow Wikians!
I'm Kate and as a fellow bibliophile, I'm excited to announce that the Wikia's Community Development Team will be participating in Young Adult (YA) Literacy Day this year! Are you an avid reader who devours books about fantasy, dystopian, sci-fi, young adult, and everything in between? If so, we're inviting you to celebrate National Library Week from April 14 - April 20th. We want to celebrate our amazing book communities, and especially highlight our young adult literature wikis! Some of our most active Entertainment wikis happen to be YA literature, with Twilight and The Hunger Games as great examples.
Join us!
April 18th is Teen Literature Day and we're inviting all of our Wikia communities to donate their books to their local libraries to raise awareness about literacy. We spend quite a bit of time immersed in YA literature in our quest to find the next Harry Potter, the next Lord of the Rings, and the next great YA wiki community! So in the spirit of giving and raising awareness, Wikia staff members will be donating some of our YA books like Divergent, The Mortal Instruments and more, to a library in San Francisco for National Library Week.
Participate
How can you participate? First of all, find out which libraries near you are accepting book donations during the week with this handy guide.  Then gather your books, gather your friends' books, and head out to donate.  Take a picture of you turning in your books and post it in the comments below.  We'll be sharing our own donation photos, and we can't wait to see everyone else getting in the spirit!
Wikia's Participation
Wikia staff went to donate some books and video games today; check it out below!
Spread the Word!
| | | |
| --- | --- | --- |
| Spread the word! | | |
Want to stay up to date on the latest feature releases and news from FANDOM?
Click here to follow this blog.
Interested in learning more about community management on FANDOM?
Click here to view our community management blog.