Greetings, I've created this blog in order to further promote a relatively new wiki I'm currently working on. It's called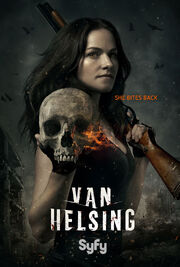 the Van Helsing wiki, it was created for the new Syfy supernatural/drama television series.
http://vanhelsing-syfy.wikia.com/wiki/Van_Helsing_Wikia
Synopsis: Five years in the future following an event referred to as "The Rising", vampires now dominate the world. Vanessa Helsing, daughter of vampire hunter Abraham Van Helsing, is resurrected to lead the surviving humans in their struggle against the vampires.
Vanessa is the last hope for survival, as she unknowingly awakens to discover she possesses unique power over them: that she has a unique blood composition that makes her not only immune to vampires, but with the ability to turn a vampire human. With this secret weapon, Vanessa becomes a prime target for the vampires, while trying to save humanity.
Vanessa must now must lead mankind against a world controlled by vampires in the post-Rising landscape, and the humans have to learn the importance of working together to ensure their survival.
I'm a big fan of the supernatural genre, so I'm often willing to give shows like this one a chance. I watched the premiere and I thought it was decent, since then I've decided to continue watching. I later found that a wiki had already been created for the series, however, it was lacking in content, so I decided to assist. Currently the wiki only has two user, myself and the founder. Together we've created a total of 50 pages, and it will only increase from there. I'm hoping that others will watch the show and join the wiki, those that do chose to join are welcome to edit, comment, create pages, blogs and much more. My wish is to build a bigger community.