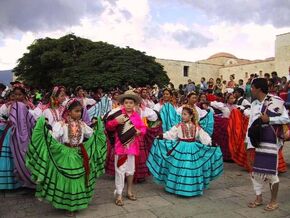 Did you know that Cinco de Mayo marks Mexico's victory over France on May 5, 1862? The holiday has become a fun commemoration of Mexican heritage, and what better way to celebrate than with colorful crafts and delicious treats?
When planning your fiesta for later this week, use these great tips from the Recipes Wiki and Easy Crafts Wiki:
Get crafty with it
Whether you decide to celebrate with a big group of friends or make it a low-key night with the family, transport your guests to Mexico with some do-it-yourself decorations. Start by sprucing up your walls with a Sombrero and Chili Paper Garland and decorating your table with Paper Bag Maracas, which could also double as name cards if you put one at every place setting. For a post-dinner treat, fill this this easy-to-make Mexican Flag Pinata with candy and invite your guests to take their best shot!
Spice up your plate
Food plays a major role at any fiesta. To get everyone in the mood, make a mouth-watering cheesy black bean dip or prepare some spicy guacamole. If you're serving a main course, chicken tacos are a healthy option (and you can always substitute avocado for your veggie friends).
Of course, no Cinco de Mayo party is complete without a classic Mexican beverage. You can mix things up with a classic margarita, or go non-alcoholic with a traditional horchata. Head over to the Recipes Wiki and the Easy Crafts Wiki for more festive ideas.
What are your plans for Cinco de Mayo? Tell us your favorite ways to celebrate the holiday in the comments below.
Want to receive updates on the latest Staff blog posts? Then click here to follow this blog.