Hi, I'm George Marbulcanti, from the Community Support team. I enjoy long walks on the beach and making up new surnames with my wife.
Back in February I posted about browsers - what they are, and how they affect you and Wikia. Today, I am here to give you an update.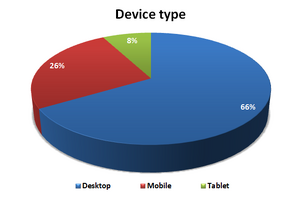 The continuing rise of mobile
The increasing popularity and power of tablets means we now treat desktops and tablets as essentially a single platform. Darwin is a highly visible aspect of this change, as we're now developing the main Wikia skin to work smoothly across both device types.
Smartphones and tablet devices are continuing to rise in popularity and now make up roughly a third of all visits to of Wikia. This doesn't include visits via apps like Game Guides and My Wikia, which you can read more about here.
Chrome continues to be the dominant desktop browser, while Internet Explorer continues to fall in usage (more on that later).
Tablets and smartphone devices are still dominated by iOS and Android, of course - iOS and Android are just about level on mobiles, while iOS still accounts for most tablet visitors.
Blink
Some of the more technically inclined may have heard about 'Blink', the new browser rendering engine that Chrome and Opera recently switched to. It's essentially a fork of the WebKit engine that Safari still uses, and is currently still very similar.
While Chrome users will notice little difference as a result, it has a bigger impact on Opera users. Opera used the 'Presto' engine until version 12, and uses Blink from version 15 onwards. While we still do not directly support Opera, it does mean that it will now behave very similarly to Chrome and thus is less likely to experience issues. If you are still using Opera 12 we strongly recommend updating to the latest version.
Internet Explorer and Safari support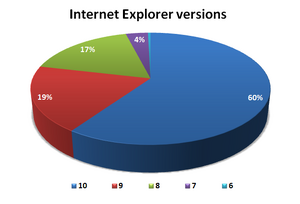 Finally, we come to the topic of IE support. In the last browser blog post we talked about dropping full support for IE8, which then occurred in early April. Six months later, the site still generally works in IE8, and we have continued to fix some critical issues.
However, today we are announcing that we plan to drop full support for IE9 in the near future. The number of IE9 users is currently barely higher than IE8 users - most have switched to IE10 or another browser already.
Similarly, we will be dropping support for Safari 5.0 and 5.1, switching our full support to version 6 and above.
This means that we will no longer be actively testing our features against IE9 and Safari 5 - but does not mean everything will suddenly break. If something does go wrong in these browsers we will still appreciate bug reports, and we will fix them on a case by case basis.
If you're using IE9 on Windows Vista, we strongly recommend switching to another browser like Chrome or Firefox - links can be found on Help:Supported browsers - or updating to Windows 7 or 8. If you are still using it on Windows 7, we strongly recommend you update to the recently released IE11 (or, again, switch to another browser).
If you are using OS X 10.5 and cannot update Safari, we strongly recommend updating to a newer version of OS X that is still actively supported by Apple.
Naturally, we realise not everyone is able to directly update or change their computer's browser - if so, we recommend politely nagging whoever does look after it!

If you have any questions about Wikia's browser support, please do let us know.
Want to stay up to date on the latest feature releases and news from FANDOM?
Click here to follow this blog.
Interested in learning more about community management on FANDOM?
Click here to view our community management blog.