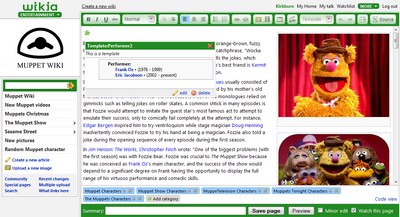 Good morning Wikia!

Today (13th January) we are rolling out an upgrade to our rich text editor across Wikia! Here are a few of the highlights:
It's faster! We upgraded the core engine to CKEditor v3.1 which brings many feature improvements and a faster and more reliable editing experience.
Reworked article parsing which means fewer spacing and formatting changes in underlying wikitext.
Its now easier to move images and videos during edit mode using built-in browser drag and drop functionality.
Advanced code (such as templates and parser tags) is represented by a 'puzzle' icon in edit mode - hover over them to see more info.
Added support for Chrome, Opera and Safari.

We are also extending the use of the editor to all talk pages, and have reduced the locations where the editor is not used to the Template and MediaWiki namespaces. If your wiki would like to make changes to this setup (e.g. you have a unique talk page setup like Final Fantasy Wiki), let us know.

We hope you enjoy the new editor! Please let us know if you have any issues or points of feedback in the comments below. We are planning more improvements for the future, such as an updated toolbar and improved support for advanced code elements.
As normal, if you have a bug report, please remember to tell us the browser name and version and exactly where and how the issue occurred.

If you need general help with the editor, such as how it works or how to switch it off, please visit Help:Rich text editor.

Thanks for your time!
Kirkburn


Want to receive updates on the latest Staff blog posts? Then click here to follow this blog.