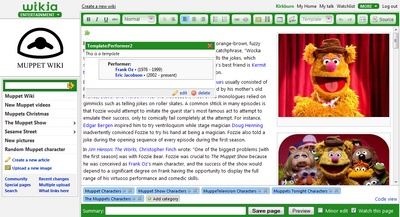 Today we will start rolling out the upgrades to the rich text editor. The following wikis will get the new editor today: Twilight, Fallout, Borderlands, Muppet and all new English wikis created from today. We plan for the rest of the site to get the editor in early January.
Here are a few of the highlights:
Much faster loading of the edit window.
Images and videos will now use much more reliable built-in browser drag and drop functionality.
Reworked article parsing which results in fewer spacing and formatting changes in underlying wikitext.
Advanced code (e.g. templates and parser tags) will be represented by a puzzle icon in edit mode - hover over them for more info.
We are excited to release this editor and are looking forward to hearing your feedback. If you come across a bug, strange behaviour or have a question please post it here. We will be working around the clock over the next week to ensure a smooth transition.
If your community would like to get the editor before the next release in January, please let us know in the comments and we will see what we can do :) In the meantime, if you would like to sandbox test the editor, you can use my personal test wiki - kirkburn.wikia. (If you do, please use new pages, and play nice!)
Thanks,
Kirkburn
(For the previous announcement, see User blog:Kirkburn/Beta test the new rich text editor)
Want to stay up to date on the latest feature releases and news from FANDOM?
Click here to follow this blog.
Interested in learning more about community management on FANDOM?
Click here to view our community management blog.