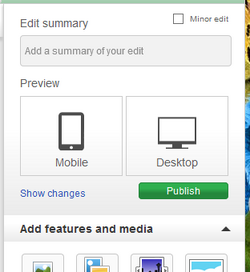 Here are the latest technical updates at Wikia. Keep in mind that our system updates happen every Wednesday, so we're posting this on a Tuesday to give you advance notice. Also note that we change hundreds of tiny details every week, so these are just the highlights.
New Features
The classic editor will be updated with clear links to the mobile and desktop previews, in an effort to help editors easily see how their articles will be seen by users on different devices. This tweak will also see the return of edit summaries that can autocomplete (as it is now a single line input).
Major Bugs Fixed
When on the mobile skin, tapping the 'Full site' link will work properly again.
We will fix a situation that could cause a confusing break in the process when starting a new wikia at the same time as creating an account.
After creating a wikia, the 'Add a page' button in the 'Congratulations!' dialog will be fixed.
Placeholder images on non-English wikias will no longer sometimes fail to allow images to be inserted.
When searching across all of Wikia for a topic, the user's original language will no longer be lost after the first search.
When blogs are enabled on a community for the first time, some automatic edits will no longer be credited to 127.0.0.1. Thanks, Volunteer Developers!
Other Notable Changes
Detailed CSS updates can be found at http://report.wikia.net - the diffs show changes to .css, .scss, .tmpl.php, .html, .sass and .mustache files in Wikia's codebase.
Native #expr support will be added to Wikia's implementation of Lua. Thanks, Volunteer Developers!
Due to performance concerns, Category Exhibition will not be available on categories with more than 2000 articles.
Questions? Comments? Feel free to leave them below. And if you have additional bugs to report, please send them to us via Special:Contact.
Want to be notified about technical updates when they are posted? Then click here to follow this blog.