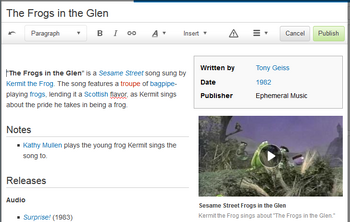 Here are the latest technical updates at Wikia. Keep in mind that our system updates happen every Wednesday, so we're posting this on a Tuesday to give you advance notice. Also note that we change hundreds of tiny details every week, so these are just the highlights.
New Features
This week we have a bumper update to the VisualEditor, bringing with it lots of new features, bug fixes and performance tweaks - a combination of the work of the Wikimedia Foundation over the past few months plus additions from Wikia. Some of the most notable changes are:
The toolbar has been reorganised to improve feature discoverability and prevent it from breaking into two lines, and a keyboard shortcuts dialog has been added.
The template dialog has been simplified, and the media settings dialog allows for more customization. Additionally, simply double-clicking on a template or image will now open these dialogs.
The link dialog now separates out redirects when providing suggestions.
More options have been added to the page settings dialog, such as whether to show a Table of Contents.
Red links are now displayed as ... red links!
Major Bugs Fixed
A wikia's background could sometimes bleed through the center of the green global notification bar.
Article image alignment was broken on Uncyclopedia.
Reverting an achievement badges to the default would prevent any further changes to that badge's picture. (Thanks, Volunteer Developers)
Questions? Comments? Feel free to leave them below. And if you have additional bugs to report, please send them to us via Special:Contact.
Want to be notified about technical updates when they are posted? Then click here to follow this blog.