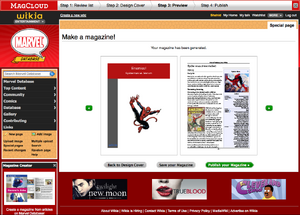 Magazine Creator
powered by
Make your own magazine!

Today we are launching a product unlike all others – Magazine Creator, a tool that lets you effortlessly transform your favorite wiki pages into high-gloss, professional looking, printed magazines. With just a couple of clicks, you can publish your own subscription-based magazine - covering characters, lore or your favorite quotes. The choice is yours.


So, how do you get started?
Use the magazine creator widget on the left to access the MagCloud toolbar. Just browse the wiki and add any articles you'd like in your magazine by clicking the "add" button.
Rearrange your articles in the perfect order - Klingon weapons, favorite NASCAR drivers, best COD weapons or whatever you like!
Design a cover, either by using our easy cover generator or uploading an image of your own.
Then, publish your magazine directly to MagCloud. From there you can order as many copies as you like for you and your friends!

Magazine Creator is live for most English-language wikis that use the Monaco skin. As always, if you have any thoughts / questions, please leave a comment below!
Want to stay up to date on the latest feature releases and news from FANDOM?
Click here to follow the FANDOM staff blog.
Interested in learning more about community management on FANDOM?
Click here to view our community management blog.