Hi everyone--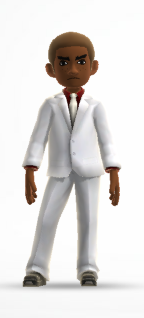 Just wanted to take a few minutes to introduce myself, and to request your help. I'm
George
, the new guy at Wikia Games, and I'm beyond ecstatic to be here.
I spent most of last week in Los Angeles at the video game industry's E3 trade show playing and watching demos of the best games that will be released over the next 18 months or so. This is easily the best part of my job, and while many "traditional" gaming editors find a way to groan, sigh, and complain their way through the show ("Nothing original"; "I'm tired of Call of Duty"), I found myself mesmerized.
I always do, and the reason is pretty simple: Video games continue to evolve. This year was more exciting than most because I think we all caught a glimpse of what next-generation gaming is going to look and feel like. The short answer is that in terms of visual clarity, pacing, and narrative, we'll be closer to cinematic experience than ever before. From Call of Duty: Black Ops II to the new Tomb Raider to the drool-inducing Star Wars 1313 to to to.....well, you get my drift. I saw game trailers with dramatic chase sequences. I played games with relentless action and over-the-top battles. I also saw games that made me feel worried, sad, even embarrassed.
The Gaming Industry Knows Who You Are
Perhaps the most amazing thing I learned at the show is that the gaming industry knows who we are. Who you are. Who Wikia is. And they appreciate it in a way that made me very happy.
I took a short behind-closed-doors meeting with Bethesda, and the guys I spoke to had nothing but amazing things to say about our Skyrim wiki. I ran into Todd Hollenshead from id Software, who expressed similar feelings. Not only do the video game industry's developers, producers, and marketers use the stories and pages you're creating. They're also using it as inspiration for their own games.
It's exciting enough for the industry that Warner Brothers approached us with a pretty exciting opportunity to be the first media outlet on the planet to look at a new Batman-themed game they're announcing on June 19th. We put out a call for participants, and community members NeonSpotlight and Vatsa1708 volunteered. They're literally the first gamers on the planet outside of Warner Brothers to play the game and write about it. You can find their first impressions right here.
I think that over time, we'll have lots more opportunities like this and part of my job is to help enable this.
How can I help?
I want to help you in building and growing your wikis. Based on what I'm reading every day on Wikia, you pretty much have this covered, but if there's anything I can do to help, from putting you in touch with game developers to helping you with your wiki's design, just let me know.
Part of my job is to not only support gaming wikis, but to help spread the word even further about how passionate you all are. Today I would like to request that you help me do this, by sharing with me the news you want spread. Please send me links to the best video game pages you're reading. Send me URLs for the edits you're making, the walkthroughs you're writing, and the wikis you're building. Insightful, helpful, and even outright weird content - I like it all!
My promise is to share this out with my network (I man @WikiaGames on Twitter and our other social media gaming accounts). So please direct me to your favorite (or weirdest) pages, edits, stories, jokes, and more. I am looking forward to getting to know all of you, your communities and to talking gaming 24/7.
Want to stay up to date on the latest feature releases and news from FANDOM?
Click here to follow this blog.
Interested in learning more about community management on FANDOM?
Click here to view our community management blog.