As we noted in our last blog post, Wikia has been growing quickly over the past year. With site growth comes company growth, and we've recently added some new members to our staff at Wikia's headquarters in San Francisco. In this post, I'll be introducing you to a few of the newbies. I'm one of them, so hello!
I'm Meighan O'Toole, the Community Manager for Founder Experience. I have been running around the Internet since 2005. My background is in social media; I've held positions at companies like Yahoo! and Juxtapoz Magazine online, and I also manage my own art blog. When I'm not online cultivating community and surfing the world wide web, I'm out riding my bike, heading to an artist's studio, or attending art shows in San Francisco.
You'll be seeing and hearing more about exciting community developments for founders and admins over the next few weeks. In the meantime, to get the scoop on upcoming blog posts for Founder Experience, be sure to follow Advice for Founders and Admins on Community Central.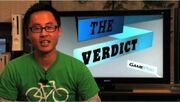 Tae Kim is the Category Manager for Wikia Gaming; he oversees the vast network of gaming wikis. He was formerly a Senior Editor at GamePro. Tae is a graduate of UC Santa Cruz (go Banana Slugs!) and received a Master's in Creative Writing at the California College of the Arts. He's a die-hard fan of the San Jose Sharks, San Francisco Giants, and San Francisco 49ers.
Christina Loff is the Category Manager for Lifestyle. She'll be helping manage all of the great Lifestyle wikis you may not know about yet, which include Craft, DIY, Photography and Food & Drink. Christina spent the last six years at Chronicle Books marketing and publicizing their Lifestyle books. An avid crafter who's dabbled in just about every craft, she is now trying her hand at quilting. She's also amassing a small collection of plastic cameras and is obsessed with shooting film. Christina's a Jersey girl who swore she would only be in California for a year after college -- but it's been 13 years and she isn't planning a move back East anytime soon.
We're all really excited to be part of Wikia! If you would like to say hi, leave us a comment, or share any suggestions, please visit our talk pages on Community Central.
Did anyone give you helpful advice when you joined the Wikia community? Introduce yourself in the comments below (make sure to link to your wiki) and share your newbie experiences with us.
Want to receive updates on the latest Staff blog posts? Then click here to follow this blog.