Back when we announced Wikia Video we wanted to offer a solution to videos that get taken down due to Copyright issues from sites such as YouTube by providing 100% properly licensed, high quality videos for you to use on your communities.
Shortly after, we released another tool to streamline the process allowing you to replace non-licensed videos with our licensed videos –Licensed Video Swap (LVS). This new tool allowed admins to quickly swap videos from outside providers to the same (or very similar) video that exists in our library at Wikia Video.
We are happy to announce that last Wednesday we yet again updated Licensed Video Swap (LVS) with a few new features to further make the process even easier for you and your communities.
The update includes: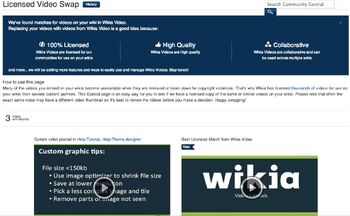 Pagination:
The page now has pagination so you can view 10 videos at a time.
Number Display for Matches:
In the Licensed Video Swap page you will now be able to see the number of Videos with Matches to your current videos.
Notification Badge on LVS Icon in Admin Dashboard:
Now in the admin dashboard an icon for the number of matching videos will appear just to the upper right.
New Flag on Non-Viewed Videos:
Matching Videos that have not been viewed by you will now be flagged as "New".
To find the Licensed Video Swap Page go to: Special:LicensedVideoSwap
We hope to continue to greatly expand this feature and would love to hear from you regarding these improvements. As always if you have any questions of requests please feel free to post them below!
Want to receive updates on the latest Staff blog posts? Then click here to follow this blog.