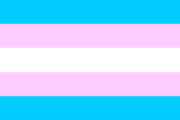 Trans*
wiki needs your help. Trans* wiki was envisioned by
Gndrqr
as "the repository of information related to
trans*
topics ... this wiki is more about the things we need to know as people who live a trans* experience day to day." But never got off the ground. As a trans person I think this something are community needs a source of information that can be found with a web search, can be up to date and expensive because it is crowdsourced and non-intimidating because they can get information without needing to post a message on a message board.
I have expanded greatly the number of pages but I'm non-op trans* person and don't know about many of the topics the wiki wants to cover. So need other Trans* people and allies to help expand the practical areas.
Ad blocker interference detected!
Wikia is a free-to-use site that makes money from advertising. We have a modified experience for viewers using ad blockers

Wikia is not accessible if you've made further modifications. Remove the custom ad blocker rule(s) and the page will load as expected.